Foundation Stabilization
Are the walls of your foundation showing signs of bowing? Are you concerned about gaps between foundation walls, ceilings, or floors? Are you seeing problems with unsquare windows and doors or cracking drywall? If your home or business is showing these or other signs of compromised foundation walls, your foundation needs professional attention. Fortunately, we can help. At United Dynamics, Inc., we have the expertise in foundation stabilization techniques you need. Our team is here to correct structural weaknesses in your building, prevent additional damage, and put the brakes on foundation shifting and sinking. Call right now for the foundation contractors you need in and around Louisville!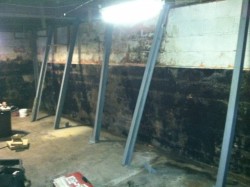 As an experienced foundation repair company since 1989, United Dynamics, Inc. has the skills, know-how, and equipment to correct virtually any commercial or house foundation problems you may be encountering. We offer options such as:
Foundation piering
Abe Jacks
Helical tiebacks
Concrete lifting
Pressure grouting
And many others
Our team of foundation repair pros is here to create a customized plan to address your specific needs. With expertise in slab jacking, piering, and other stabilization techniques, we have the ability to solve complex problems that are beyond the scope of less experienced foundation contractors. Contact us for more details or to get your free estimate.
Foundation Piering
If your foundation is settling, one of the leading techniques we utilize to support your foundation and lift it back into place is called foundation piering. This system, which involves anchoring your foundation to bedrock or a more stable layer of soil, can help close masonry cracks, reverse damage, and prevent additional foundation settling from taking place.
Basement Wall Repair
Another sure sign of foundation problems is when basement walls are visibly bowed or warped. Through the use of helical tiebacks, Abe Jacks, and other foundation stabilization tools and techniques, we can repair your bowed basement walls and prevent similar damage from occurring in the future. If you're having issues or concerns about stair-step cracking, basement walls bowing, or the possibility of your house sinking, call us right away for prompt help and a no-obligation cost estimate.
Skilled Foundation Contractors
If foundation problems are plaguing your family's home or commercial property, you can't afford to gamble on the qualifications and capabilities of inexperienced foundation contractors. That's why it pays to choose United Dynamics, Inc. for services like foundation piering, basement wall repair, and other foundation stabilization systems. Serving local homeowners and commercial customers since 1989, we keep our prices competitive and provide superior workmanship on every job! We're also licensed and insured for your protection, and we are members of the BHA and Building Industry Association of Greater Louisville.
foundation piering
structural foundation repair