Foundation Crack Repair
Foundation cracks are an easy thing to ignore or dismiss, but if you let them remain, they will get worse. Because your foundation is the supporting structure for the rest of your house or commercial building, leaving those cracks alone can lead to major problems down the line. For foundation crack repair, United Dynamics, Inc. is your reliable answer in the Louisville area. Since we first opened our doors in 1989, we've been the local foundation company you can put your complete trust in. Our commitment to providing some of the best craftsmanship around means you can rest assured that your foundation will be repaired correctly!
As an A+ rated, accredited business with the Better Business Bureau, our goal is 100% customer satisfaction. If you have a cracked foundation wall or cracks in your basement floor, we offer a variety of solutions. The United Dynamics, Inc. team is able to perform epoxy injection crack repair, install carbon fiber strips, and provide other services to seal cracks and support your foundation. For a free estimate, call or e-mail us today.
Foundation Crack Repair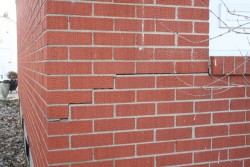 A cracked foundation can develop serious structural problems if it's not nipped in the bud. Since water has a way of finding foundation cracks and making them worse, it's essential that those gaps be sealed off to prevent damage from the winter's freeze-thaw cycle. The basement crack repair techniques we use not only fill in the spaces and provide a waterproof seal, but they also help reinforce your foundation. By drilling strategically placed holes in your basement and injecting a durable epoxy sealant into those problem areas, we're able to stem the flow of water and prevent further damage from taking place to your foundation.
Whether you're experiencing cracks in your basement floor, wall, or ceiling, United Dynamics, Inc. will get to the bottom of the situation and recommend both corrective action and preventative measures. Call or e-mail us now to find out if epoxy injection crack repair or another technique is the best solution for cracks in your basement wall, floor, or ceiling.
Don't let a cracked foundation undermine the structural integrity of your home or commercial property. Contact us today at United Dynamics, Inc. in Louisville to explore your options for basement crack repair, house foundation cracks, and much more.
Crack Repair
Repair Foundation Cracks