Basement Waterproofing
Having a wet basement is a common problem, often caused by outside water seeping through cracks, foundation walls, or the wall/floor seam. If the moisture problem is not too severe, some people just choose to ignore it... What many property owners don't realize is that excessive moisture can not only contribute to foundation deterioration, but it can also create an ideal environment for mold growth. One of the best ways to protect your foundation and indoor air quality is an effective basement waterproofing system. For a free estimate on wet basement solutions in the Louisville area, call or e-mail us at United Dynamics, Inc. Whether you're experiencing periodic basement flooding or you just seem to have water trickling in from cracks in your foundation, we'll identify the source of your problem and fix it!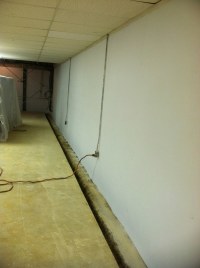 With many years of experience in building, repairing, and drying out basements, we have the expertise to help you eliminate basement leaks. We offer a variety of effective methods for waterproofing your basement, including:
Crack repair
Carbon fiber strips
Interior drainage systems
And many others
In many cases, your best bet for basement waterproofing is installing a drainage system as well as fixing any existing foundation cracks. That's why we offer Perma Dry interior drainage systems. These long-term solutions for waterproofing your basement channel water out to eliminate moisture, unpleasant smells, and the damaging effects of persistent leaks and basement flooding. For information on what it will take to waterproof your basement, contact us at United Dynamics, Inc. We're a family-owned business that's committed to providing affordable and effective wet basement solutions.
Basement Waterproofing Contractors
Since 1989, we've been helping local families and small businesses stop the foundation damage that cracks and water leaks can cause. If you've noticed a need to waterproof your basement, we'd be happy to customize a plan that would be right for you. Depending on the severity and nature of your wet basement problems, we'll recommend different drainage system components to ensure you get the most effective options for your specific property. Our wet basement solutions are customized, guaranteed, and among the most economical in and around Louisville. Let us take care of your wet basement waterproofing now!
When you're looking for basement waterproofing contractors who stand behind their work, look no further than United Dynamics, Inc.
Dry Basement
Basement leak
Basement Waterproofing Contractor
Basement Waterproof
Basement Waterproofing Company